Industrial Space Demand Forecast Report, Third Quarter 2023
09.01.23
Given current economic conditions and recent demand trends, the authors estimate that quarterly net absorption of industrial space will average 52.6 million square feet over the next two years. Total net absorption for the second half of 2023 is forecast to be approximately 104 million square feet; full-year absorption in 2024 is forecast to be around 205 million square feet; and absorption in the first half of 2025 is forecast to be approximately 111 million square feet (see Figure 1 for quarterly projections).
The Industrial Market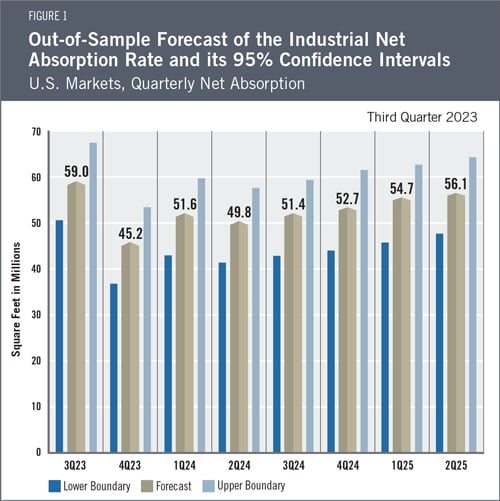 The industrial market remains relatively healthy, although not as strong as it was last year. After several quarters of demand for industrial space outstripping supply, the reverse has been true since the third quarter of 2022. Construction starts and transactions have slowed, reflecting higher interest rates, tighter lending standards and cooling demand. Supply and demand for industrial space appear to be converging toward a slower pace of growth that is more aligned with pre-pandemic trends.
The national vacancy rate stands at a historically healthy 3.7%, though vacancies vary greatly between different geographic markets. Port markets on both the East and West Coasts have the lowest vacancy rates, with markets in the Midwest having slightly higher rates. Average net asking rents are up 9.9% year-over-year.1 Interestingly, vacancy rates have increased slightly alongside rent growth. This reflects the delivery of new high-quality industrial space that can command higher rents. New deliveries have outpaced absorption, contributing to the uptick in vacancies. Land constraints in port markets present a barrier to new construction, contributing to lower vacancy rates and higher rents in those markets.
Authors
Hany Guirguis, Ph.D., Professor, Economics and Finance, Manhattan College
Michael J. Seiler, DBA, J.E. Zollinger Professor of Real Estate & Finance, College of William & Mary
---
1 CBRE, "Asking Rents Hit Record High Despite Rising Vacancy," July 28, 2023, https://www.cbre.com/insights/figures/q2-2023-us-industrial-figures.